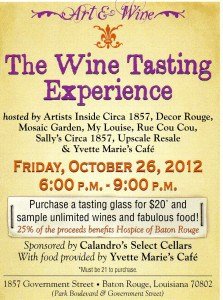 If you'll be in the Baton Rouge, Louisiana area in late October, I'd love to see you at my first book signing event. This won't be some boring old event either. I'll be set up at the Circa 1857 Wine Tasting Experience night on Friday, October 26, 2012, from 6:00pm to 9:00pm.
The Wine Tasting Experience is sponsored by Calandro's Select Cellars, with food provided by the excellent Yvette Marie's Cafe. It's being hosted at Circa 1857, which is an amazing array of shops that sell beautiful art – old and new, antiques and architectural salvage.
Purchase a tasting glass for $20 and sample unlimited wines and fabulous food! Plus, 25% of the proceeds benefit Hospice of Baton Rouge, which is my favorite charity. They are truly angels on earth!
So please come join me for some great wine, fabulous food, and of course, take a little time to flip through one of the copies of The Grave Blogger that will be there. I hope to see you!
Circa 1857
1857 Government Street
Baton Rouge, Louisiana 70802