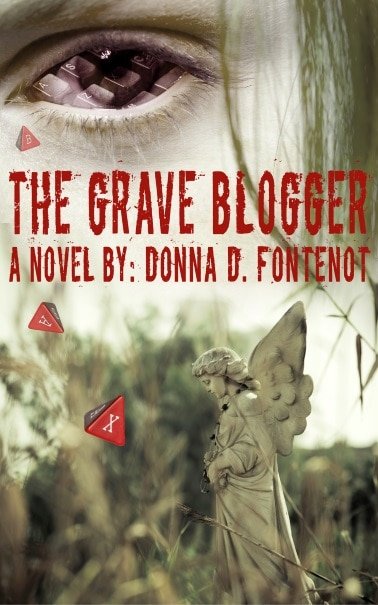 THE GRAVE BLOGGER
An Award-Winning Novel by Donna D. Fontenot
Raya, a freelance writer and blogger, researches cold cases for true crime websites.
Living in Louisiana, an area rich with historical mystery, she always has a large pool of local, unsolved cases with interesting stories to pull from.
But one case in particular sounds familiar in a way that causes her to panic.
Names and descriptions within the reports of the case stir memories, but are they real or imagined?
Her investigation leads to grave consequences as she gets too close for a killer's comfort.
Watch the Official Trailer for The Grave Blogger
About the author
The Grave Blogger is Donna's first novel, born from her love of a good mystery and her fascination with the twisted mechanisms of criminal minds. Drawing on her own experiences as a blogger and a native of Louisiana, she decided it was time to weave a tale that brought all of this together. The characters, though purely fictional, reflect a mixture of the personalities of friends and family in Donna's life. When asked who influenced the killer's personality, she only smiled.
"Never trust anyone in this town, Raya. Not a single soul. No one knows who you are. Your parents and I have kept your secret for 20 years for a reason. We need to make sure that secret stays hidden, especially while you are here in this town. If anyone realizes that you have memories of that day – that you were actually here – we lose the advantage of keeping your identity hidden. Please tell me you understand the importance of that, Raya."
What Readers Think of The Grave Blogger
To say that Graveblogger was "so good I couldn't put it down" seems trite, but nothing sums it up as nicely. Great character development, interesting plot twists and an action-packed ending made this one of the best reads I've enjoyed in a long time! The tension just keeps building…
This was a great read and from chapter 1 it drew me into the story! I fell in love with the characters and could not put it down. It was very well written with a lot of Louisiana lagniappe! I highly recommend it and am hoping for a sequel!
@DonnaFontenot Loving your new book! Just bought it and can't stop reading! 🙂 Congrats!
The Grave Blogger is a well-written page-turner! The judges loved it!
… an enviable sense of place; the atmosphere of bayou country permeates the story almost like humidity, and the rich details of poboys, farmer's markets, shelling peas and small town gossips all contribute beautifully to a sort of 'southern gothic' feel as St. Felicity struggles both to bury the secrets of its past and to somehow resolve the mystery.
The story line was gripping, the characters well rounded, and I had to keep reminding myself that this was indeed a first novel, as I would never have guessed it to be. I'm hoping and waiting for a sequel!
@DonnaFontenot Just finished reading your novel The Grave Blogger. Thoroughly enjoyed this, gripping and exciting crime thriller.
Amazon Prime Members: You can download The Grave Blogger on your Kindle for free!